Young scientists, master students and PhD students of RA universities, NAS presented their recent achievements in various fields of science
December 12, 2020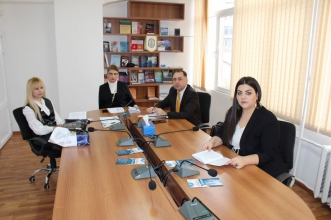 The official opening of the "Armenia of the Future" three-day conference-school for young scientists took place on December 11 at the International Scientific-Educational Center of the National Academy of Sciences of the Republic of Armenia. The opening speech was made by the acting director of ISEC A. Sargsyan. Mr. Sargsyan, emphasizing the role of science in the development of our country, noted "Having limited natural resources, the development of science is vital in our country's growth. We hope that the young researchers taking their first steps in the field of science with their thoughts, ideas and suggestions will contribute to the establishment of this conference-school.

In this context, the organization of such events is very important, which gives an opportunity to unite young researchers interested in science, to create an environment for their dialogue, to put forward new ideas. "According to the director, the International Scientific-Educational Center of the National Academy of Sciences of the Republic of Armenia will continue to support the establishment of all the initiatives aimed at stimulating interest in science, valuing the work and reputation of the young scientist and researcher.

The Dean of ISEC A. Mkhitaryan, Deputy Director for Scientific Research N. Hakobyan, Scientific Secretary M. Sargsyan, Head of the Public Relations Department A. Shahazizyan and Head of the Quality Assurance Department N. Vardanyan also made speeches.Afterwards, young scientists and PhD students of the RA universities, NAS system made reports, presenting their recent achievements in various fields of science.

The conference was organized in accordance with anti-epidemic laws. Most of the reports were submitted online by the participants. It is an additional opportunity for many students, young scientists overseas, to participate in online conference-school events, to ask questions to the speakers and to present their views.

During the next two days, the conference - school will continue its work in small professional groups, where well - known scientists will pass on their experience to the younger generation, giving lectures in the area. A round table will be held to address the role of science and scientists, their future plans, in overcoming the situation in the world.