Department of History, Political Science and International Relations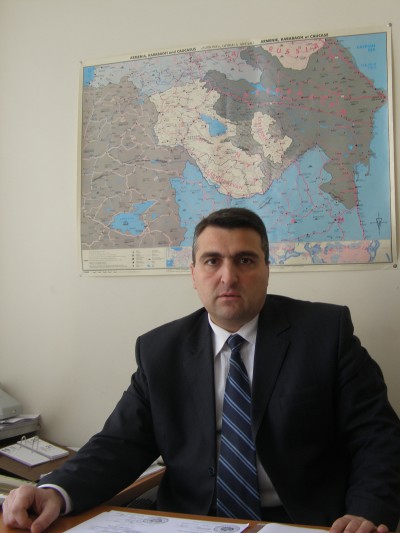 Head of Department
Karen Hamlet Khachatryan
Doctor of Historical Sciences, Associate Professor


The Department of History and International Relations of the International Scientific-Educational Center of the National Academy of Sciences of the Republic of Armenia was founded in 2005. The establishment of the Department proceeded from the need to prepare Master degree specialists with research skills in "History" and "International Relation specializations" for various areas of social life.



---
Department Objectives:

To prepare highly qualified Master degree holders in «History» and «International Relations».
To conduct scientific and academic activities, research using modern methods.
To promote the international scientific-educational cooperation in the professional area.
To modernize the educational content.
To work out and publish study handbooks and guides.
Highly qualified and experienced specialists of the scientific-educational area and diplomatic service teach at the department.

---
Specialization - History, International Relations, Political Governance and Political Analysis , Political Science

---
Research Works

Over the last 5 years the Faculty of the Department has published a few dozen of scholarly monographs and educational-methodological papers. Only in 2014-2015 the Department staff published about 70 scholarly articles, 8 monographs, 4 textbooks, 1 educational-methodological handbook. The Department teachers and Master students actively participate in various national and international conferences introducing the research results implemented by them.

---
The Faculty

Karen Khachatryan

Doctor of

Historical Sciences, Associate Professor

Hrant Abrahamyan

Doctor of Historical Sciences, Professor

Ruben Azizbekyan

PhD in Historical Sciences,

Associate Professor




Hovhannes Alexanyan

PhD in Historical Sciences, Associate Professor

Grigor Arakelyan

Lecturer

Knarik Avagyan

PhD in Historical Sciences

Souren Avetisyan

PhD in Historical Sciences,

Associate Professor




Nelly Baghdasaryan

PhD in Political Sciences, Associate Professor

Albert Kharatyan

Doctor of Historical Sciences, Professor, Corresponding Member of NAS RA

Gevorg Khudinyan

Doctor of Historical Sciences

Karen Hairapetyan

PhD in Historical Scinces

Hamlet Haroutyunyan

Doctor of Historical Sciences, Professor

Lilit Hovhannisyan

PhD in Historical Sciences, Associate Professor

Artashes Ghazaryan

PhD in Historical Sciences, Associate Professor

Armen Marukyan

PhD in Historical Sciences, Associate Professor

Laura Melikyan

PhD in Historical Sciences, Associate Professor

Ashot Melkonyan

Doctor of Historical Sciences, Professor, Academician of NAS RA

Norair Sarukhanyan

Doctor of Historical Sciences

Hamo Soukiasyan

PhD in Historical Sciences, Associate Professor

Vrezh Vardanyan

Doctor of Historical Sciences

Gohar Vardoumyan

PhD in Historical Sciences, Associate Professor

Amatuni Virabyan

Doctor of Historical Sciences

Vahan Ter-Ghevondyan

PhD in Historical Sciences
---
Tel: (+374 10) 581901

E-mail: history@sci.am
---