Department of Management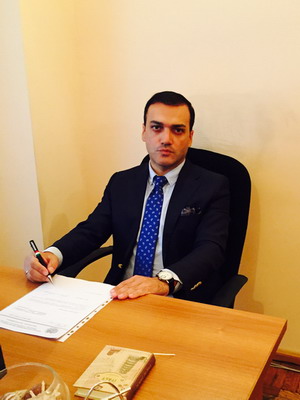 Head of Department

PhD in Economics

The Department of Management of the International Scientific-Educational Center of the National Academy of Sciences of the Republic of Armenia was founded in 2004. The establishment of the Department proceeded from the critical need for economists, marketing specialists of different areas of social life, as well as that of finance specialists in the market. The Master Degree programme in the Department is organized for both full-time and part-time study. Since 2013 the specialties of the Department were replenished with «Business Management» and «Tourism Management» and since 2015 with «Customs Affairs» specializations.

---
Department Objectives:

To prepare highly qualified Master Degree holders.
To work out modern methods for the Master Course with the specializations in "Management", "Business Management", "Finance", "Marketing", "Customs Affairs" and "Tourism Management" carrying out academic and educational research in these areas.
To establish an international scientific and educational cooperation with the leading HEI-s of Armenia and foreign countries in the professional area.
To enhance the educational content.
To publish textbooks, study handbooks and learning guides.
One of the primary goals of the Department of "Management" is to prepare Master degree holders with inter-disciplinary knowledge, whose demand is increasing both in the RA and at the international labor market.

---
Specialization – Management, Business Administration, Public Administration, Public Finance Management

---
Research Works

Highly qualified specialists with a great reputation in the field of education and science deliver lecture in the Department.
Over the last 5 years the Faculty of the Department has published three scholarly monographs, three study handbooks, 50 research articles. The Department pursues professional requalification of the lecturers, the publication of materials in scientific journals and also the participation in professional conferences. The Faculty participates in various national and international conferences, symposiums presenting research results.

Business administration laboratory operates attached to the Department
---
The Faculty


| | |
| --- | --- |
| Karen Sargsyan | PhD in Economics |
| Aram Simonyan | PhD in Economics, Associate Professor |
| Irina Hovakimyan | Doctor of Economics, Professor |
| Benik Manukyan | PhD in Economics, Associate Professor |
| Kamo Hovhannisyan | PhD in Economics, Associate Professor |
| Areg Baghdasaryan | PhD in Economics, Associate Professor |
| Alina Babayan | PhD in Economics, Associate Professor |
| Hrachya Ohanyan | PhD in Economics, Associate Professor |
| Vahagn Ohanyan | PhD in Economics, Associate Professor |
| Heghine Pivazyan | PhD in Economics, Associate Professor |
| Maro Martirosyan | PhD in Economics, Associate Professor |
| Wilen Khachatryan | PhD in Economics, Associate Professor |
| Vladimir Abgaryan | PhD in Economics, Associate Professor |
| Gor Hairapetyan | PhD in Economics |
| Armine Zakharyan | PhD in Economics |
| Zara Mkrtchyan | PhD in Economics |
| Ivan Grigoryan | PhD in Economics |
| Khachik Papazyan | PhD in Economics |
| Edward Petrosyan | PhD in Economics |
| Anahit Voskanyan | PhD in Economics |
| Zaruhi Hairyan | PhD in Philological Sciences, Associate Professor |
| Lilit Asoyan | PhD in Historical Sciences, Associate Professor |
| Narine Vardanyan | PhD in Philological Sciences |
| Karapet Zarafyan | Geologist, Engineer |
| Narine Manukyan | Lecturer |
| Anahit Ghukasyan | Lecturer |
---
Tel: (+374 10) 524812

E-mail: kssargsyan@yahoo.com

---
Gallery