The delegation of the ISEC NAS RA visited Tavush region
April 27, 2021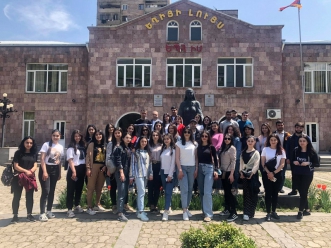 On April 25, the ISEC NAS RA Public Relations and Career Department along with the Student Council visited the Tavush region to discover the beautiful nature and sights of Armenia and surely strengthen the ties of cooperation already established with YSU Ijevan Branch.

Our delegation visited the picturesque Dilijan, walked through the colorful old streets, visited the wood museum.

The delegation from ISEC NAS RA was greeted by the head of the university's international relations department, the head of the student council, and students at the YSU Ijevan branch. Head of Public Relations and Career Department of the Center A. Shahazizyan got acquainted with the students of YSU Ijevan branch, stated that it is crucial to hold similar events and discussed the forthcoming programs and activities of cooperation with the head of the university's foreign relations department, A. Yeganyan.

ISEC master students and IB students visited Ijevan's "Dendropark," which comprises over 650 tree and shrub species from almost every continent except Australia. The community then went to Makaravank, a 13th-century monastery complex where a local priest offered prayer in in honor of the 1915 Armenian Genocide's innocent victims.

The meeting concluded with a trip to Lake Kari, where students from the two universities were able to get to know one another better, discuss joint programs and events, and hope that the next meeting will not be too late.