Making the quality of education and interconnectivity among departments as the primary issue for the ISEC
March 21, 2019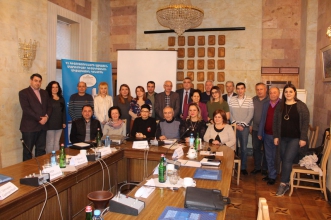 On March 15-17 the Quality Assurance Department of the ISEC NAS RA, hosted a conference in titled "Strengthening the interdepartmental and quality of education system of the ISEC NAS RA" in Tsakhkadzor, aimed at transferring the best practices of the ISEC chairs, discussion of various issues and the establishment of quality improvement. The heads of all the departments were present during the conference as well as, all the directors of the NAS institutions with which the ISEC considers cooperation important.

At the conference, all chairs had the opportunity to discuss the quality management system, identify existing issues and present the current trends and perspectives of international cooperation. In the second part of the conference, training was provided by the employees of the RA National Quality Assurance Center, Anushavan Makaryan and Lilit Zakaryan. A. Makaryan's presentation referred to the peculiarities of the second phase of the accreditation, and Lilit Zakaryan spoke about the importance of building up-to-date activities in accordance with quality standards, specially, about the peculiarities and importance of each stage of the PIEI (Planning, Implementation, Evaluation, Improvement) cycle.

Professor Albert Sargsyan, Director of the ISEC, stated: "Being a prototype of the research university in Armenia, we attach great importance to the introduction and development of quality assurance mechanisms in our Center, and these and similar events are aimed at the dissemination of the quality assurance system."

According to Narine Vardanyan, head of the Quality Assurance Department, organizer of the conference, "Such meetings are a good opportunity to reveal the shortcomings of existing mechanisms in the Center, to improve and develop the quality assurance system, to introduce a truly efficient system. We are thinking of holding such conferences regularly, as there are numerous proposals, new themes and new approaches to the new inter-community cooperation within the framework of this conference, which need to be brought to life and to be continued".