Meeting between the members of ISEC administration and the students
September 14, 2022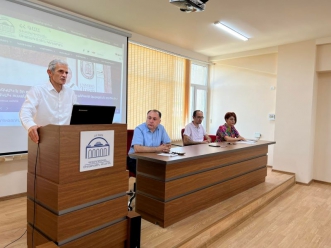 On September 9, a meeting was held at the International Scientific-Educational Center of the National Academy of Sciences of the Republic of Armenia between the members of ISEC administration and newly enrolled students admitted to the Master's Program in the 2022-2023 academic year. The meeting had an introductory nature and was aimed at getting acquainted with one another and presentation the educational process of the Center.

Yerjanik Zargaryan, the Deputy Director on Educational Affairs of ISEC NAS RA, made a welcome speech and presented the regulations on the Master's educational programs, the evaluation methodology, the examination rules and procedures and answered to common questions about the educational process.

Atom Mkhitaryan, the Dean of ISEC NAS RA, congratulated the students on the beginning of the new academic year, introduced the regulations of the Center's educational process and students tuition fee payment policies and discounts.

Armen Yeghoyan, Head of Information Technologies Department of ISEC NAS RA, provided instructions to the students on how to get started with Moodle learning platform, as well as introduced all the characteristic features and tools for the efficient use of the remote platform.

Lilit Kharatyan, Legal Advisor of ISEC NAS RA, also participated in the meeting, who presented the procedure for concluding individual contracts with students and expressed her readiness to support and settle any legal issue.

In conclusion of the meeting, Lilit Adamyan, Head of Public Relations and Career Department of ISEC NAS RA, briefly presented wide opportunities for students, the scope of the Public Relations and Career Department's cooperation with students, and emphasized the importance of students' active involvement in various events organized at the Center, as well as in the discussions of the joint communication platform aimed at highlighting the educational and professional needs of the students and organization of the informal educational process to meet their expectations.


Public Relations and Career Department of ISEC NAS RA