Informative and Educational Visits to UNITUS Departments
May 22, 2019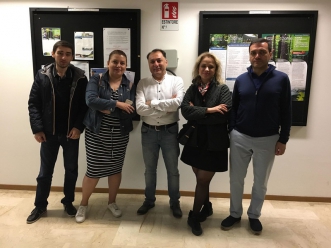 Within the frames of Erasmus+ International Credit Mobility project, on 20 May 2019 the ISEC delegation visited a number of departments and labs at the University of Tuscia, particularly:

DAFNE

AGRICULTURAL AND FORESTRY SCIENCES

DAFNE is unique in that it is the only university de­partment of Lazio with teaching and research com­petences in the fields of agriculture, forestry and na­ture conservation sciences, and agro-biotechnology. Teaching activities are closely tied to research and this connection becomes closer as the three-year de­gree programme progresses to the master's level and reaches its maximum level in the research doctorate programmes.

DEB

ECOLOGICAL AND BIOLOGICAL SCIENCES

The Department prepares highly skilled technicians and professionals in the biological and environmental field. Graduates in Life Sciences can carry out pro­ductive and technological activities in various practi­cal fields, in addition to numerous analysis services. DEB has numerous laboratories, where students work towards their graduation theses and PhD fi­nal dissertations. The Department is endowed with state-of-the-art equipment and supervised by teach­ing staff and researchers who have gained national and international recognition and who have pub­lished in the leading international scientific journals.

Visits were paid to the laboratory of soil physics dealing with the determination of soil physical properties. On the spot, specialists examined the field measuring devices and toolkits designed for soil sampling for the purpose of determining soil particle sizes, the specific features of preparatory works for the determination of soil particle sizes, methods of separate soil fraction distribution, as well as different devices and equipment. At the Biophysics & Nanoscience Center, specialists learnt about the investigations on various properties of the substance at the level of nanoparticles and the equipment used for scanning the surface of the substance – different microscopes and discussed the applicability of the potential of these devices in the environmental research.

A visit was also paid to the UAV lab, where the head of the lab introduced cutting-edge innovative research carried out at the lab, state-of-the-art UAVs, their technical features and innovative approaches to processing of big data. The options for further collaboration have been discussed and preliminary arrangements have been made.