The students of ISEC studying at Tuscia University, took the 3rd place in the Intercultural Competition
June 24, 2022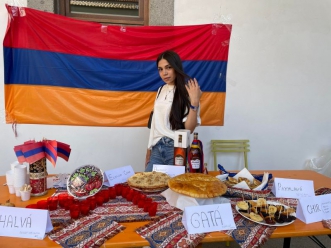 On May 20, 2022, within the framework of the "Erasmus+" Credit Mobility Program, the students of International Scientific-Educational Center of the NAS RA, studying at Tuscia University in Italy, participated in the Intercultural Competition, attended by numerous students from 13 countries.

Among ISEC students participating in the event there are the 1st year students of Master's Distance Education Program of Business Administration, Suzanna Mnatsakanyan, Hmayak Poghosyan, Evelina Arakelyan, as well as the 1st year Master students of "Environmental Protection and Nature Management" Department, who along with other international students, presented Armenian traditions, national culture and cuisine, as a result of which they took the 3rd place.

It should be also noted that throughout the event the ISEC students organized a festive treat presenting a colorful and a wide variety of Armenian cuisine, and also delighted the participants of the event with Armenian national songs and dances.

We are proud of our students and highly appreciate their commitment and dedication, wishing them even more success and achievement for the next adventure.


Public Relations and Career Department of ISEC NAS RA