Mesrop Mashtots Sunday School in Odessa hosted a two-week teacher and education organizer training
August 24, 2021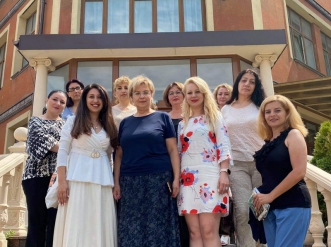 The two-week trainings of teachers and education organizers began on August 3 in the Sunday school after Mesrop Mashtots, as part of the Cooperation Memorandum signed in 2020 between the International Scientific-Educational Center of NAS RA and "the Armenian Community of Odessa."

The training is carried out by Associate Professor Mary Sargsyan, Scientific Secretary of the International Scientific-Educational Center of NAS RA.

The trainings take place in a full-fledged working environment, with plenty of opportunities for healthy debate and discussion. M. Sargsyan and the Odessa-Armenian teachers are already familiar with the challenges of teaching Armenian in a multilingual setting, as well as teaching methodologies, effective teaching methods, and tricks.

"The establishment of cooperation with Armenian schools in the Diaspora, tight links, and the continuation of collaborative programs is one of the important goals of the ISEC NAS RA's Chair of Linguistics. The Chair's close ties with the Armenian community of Odessa are once again strengthened by our ongoing collaboration for the preservation and dissemination of our national and cultural heritage. It is commendable that the Armenian community of Odessa, in the person of the director of the Odessa Cultural Center Anna Gorgyan, plays the role of preserving the Armenian language and preserving the language, creating an appropriate environment for organizing effective education for both teachers and students. "I admire their zeal, patriotic activity and readiness," said M. Sargsyan.