Scientific Degree Awarded with Armenian and French Diplomas
July 4, 2019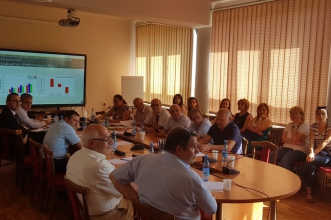 On July 2, in 037 "Informatics" professional board at the Institute of Informatics and Automation Problems of National Academy of Sciences RA there was a thesis defense for PhD degree in Technical Sciences degree in the specialty E.13.04. The author was a graduate student of National Academy of Sciences of Armenia, and then a PhD student, Aram Qocharyan. The topic of the thesis entitled "Managing memory in a virtual environment" is very relevant, as noted by opponents Samvel Shuquryan and Doctor of Technical Sciences form France, Noel De Palma.

It is important to mention, that the subject was studied simultaneously both in Armenia and in France under the scientific guidance of two scientists: Hrachya Astsatryan, PhD in Technical Sciences and the Director of the Institute of Informatics and Automation Problems and Daniel Hagemont, Doctor of Technical Sciences, Professor of Paul Sabatier University in Toulouse.

This is the first creation of our long-term cooperation, said Atom Mkhitaryan, Scientific Secretary of the ISEC NAS RA, who was present at the joint defence. The public defence lasted nearly three hours and took place in accordance with the procedures of Armenia and France. The speaker presented in detail the work that has been done answered all the questions and addressed the comments, some of which were via direct communication from France.

Cooperation with Toulouse University aims at developing joint master's programs, by bringing the French experience of effective communication to education and research-production to Armenia. Aram's brilliant defence is the best guarantee for deepening this cooperation, said Atom Mkhitaryan.