Online Master Education in Focus of CIF
December 9, 2016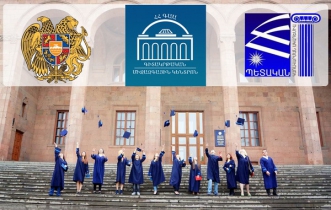 On 7 December the representatives of the Center for Education Projects PIU paid a working visit to RA Public Administration Academy, where they had a working meeting. The aim of the visit was to monitor the progress of CIF (Competitive Innovation Fund) project.
Project Manager Tereza Khechoyan and Project Coordinator Arusyak Harutyunyan presented the current works implemented in the frames of "Online Master's Program with Joint Diplomas" project.
The launch of the project was given in December 2015 and it aims to introduce and develop distance learning in Armenia and to ensure access to master's education with the use of the ICT technologies. In the frames of the project it's planned to install a LMS, to train the academic staff at RA Public Administration Academy and International Scientific-Educational Center of NAS RA and build distance learning courses, develop a joint diploma format. The second stage of this project finishes in December 2016. The development of a curriculum on joint online Master's in Business Administration has been accomplished. During the meeting the participants discussed a number of issues on further work and process organization. It should be added that the implementation of this project tends to reinforce distance learning grounds in Armenia and development and integration of national system of distance education.