New cooperation with "Evolution" company
December 29, 2021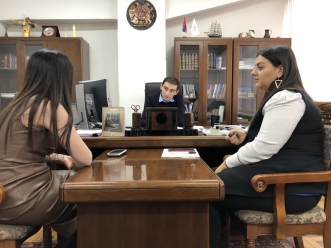 A meeting with the Head of Human Resources of "Evolution," A. Melikbekyan, was conducted on December 28 at the request of the ISEC's Public Relations and Career Department. The meeting was attended by A. Sargsyan, the director of ISEC, and A. Shahazizyan, the head of the Public Relations Department.

Evolution is a Swedish company that has been operating since 2006. With an IT focus, the company offers online gaming software. Today, the company already has offices and studios in more than 20 places around the world. The company recently established a studio in accordance with modern international standards in Armenia.

The company promises its employees health insurance, rest room, canteen, gym and other facilities.

The meeting was held in an atmosphere of constructive mutual understanding; an agreement was reached to sign a memorandum of cooperation between ISEC and "Evolution" company in order to fill the vacancies in the future, to give students a job opportunity.


The ISEC Public Relations and Career Department