New Cooperation Prospects between International Scientific- Educational Center and Foundation for Armenian Science and Technology (FAST)
April 12, 2021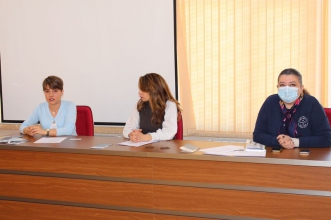 On March 30, the representatives of the Foundation for Armenian Science and Technology (FAST) paid a visit to the International Scientific-Educational Center.

The main mission of the Foundation is to create a favourable "ecosystem" that drives technological innovation and scientific advancement in Armenia and abroad. It aims to unite the scientific, technological and financial resources of the Armenian and international community. The programs are implemented in three main directions: education, research, and commercialization of research products.

The purpose of the visit was to get acquainted with the educational and research activities of ISEC and to discuss the possibilities of further cooperation within the framework of the "SciNova" program implemented by the FAST Foundation, in particular:


Integrating the "Research Design and Science Commercialization" course in NAS RA academic programs

Engaging NAS RA lecturers in the upcoming Training of Trainers

It should be noted that the goal of the "SciNova" program is to equip Armenian students with modern skills in conducting scientific research and commercialization of science. The project is part of the Creative Spark Initiative in partnership with the University of Aston and is funded by the British Council.

The meeting took place in a working and constructive atmosphere.