Meetings With Administrative Staff Unitus
May 22, 2019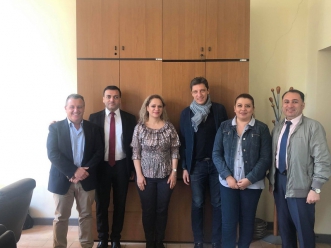 On 21 May the meetings designed for administrative staff were held at the University of Tuscia (Unitus). Headed by Head of Foreign Affairs Department Arusyaj Harutyunyan, the first meeting was with Paolo Capuani in charge of Education Services and Quality at Unitus, who presented the process and features of program accreditation, the criteria of program accreditation and student/academic staff satisfaction survey analyses formats. Particularly, the research component in education was discussed and the indicators of measuring this component, as well as the process of accrediting PhD programs was presented.

Then the meeting dedicated to double degree agreement was held in the course of which the agreement of awarding double degree program and program curricula were finalized.

DEIM

ECONOMY AND BUSINESS

The DEIM Department study programmes have been designed in collaboration with professional associa­tions and businesses in order to foster education and training geared to the working world. This type of structure facilitates a high number of work experience placements, project work and apprenticeships, which are carried out during the study period.

The courses offered by the DEIM Department provide first cycle education, consisting of a bachelor's de­gree (3 years), followed by master's degree (2 years).

As a result of the discussions, a decision was reached to sign a double degree agreement not only in "Administration, Finance and Control" but also in "Marketing and Quality". For this purpose, a meeting was organized with Barbara Aquilani, responsible for "Marketing and Quality" to discuss the compatibility of the curricula and the distribution of courses. The double degree agreements is planned to sign already in July 2019.