Meeting – Discussions with Sectorial Lecturers at University of Tuscia
May 24, 2019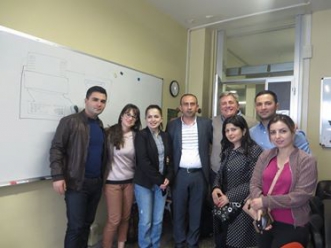 On 21 May 2019, the University of Tuscia, Italy organized meetings-discussions with sectorial lecturers and within its frames the lecturers of ISEC NAS RA had individual meetings with the academic staff at UNITUS.

Davit Pipoyan took part in the meetings with Professors Saverio Senni and Gabriele Dono.

The meeting with Saverio Senni covered the advantages of social agriculture and the obstacles of its development, as well as the development of organic and social agricultures not only in terms of profit increase, but also public health.

At the meeting with Professor Gabriele Dono, the main directions of the agriculture in Italy were presented, as well as the legal regulation and funding sources of the agriculture sector. The main topic of the meeting was the tactics of agri-food policy, as well as the challenges of agri-food policy. Gabriele Dono's professional interests involve not only bioeconomy and circular economy, but also the sustainability of agri-food systems in course of climate changes. An arrangement was reached at the meeting to organize an individual working discussion with the professor to scrutinize further cooperation and opportunities for joint scientific publication. ISEC students Stella Stepanyan and Seda Stepanyan are Professor Dono's students who have already passed their examination with honors.

Among the visits organized on 21 May the visit to the experimental research lab of the university was significant. In the course of this visit, the role of the experimental research lab in the scientific and educational processes was presented in line with the experimental greenhouse and experimental blocks for growing food and breeding animals.

The organization of works was of particular interest: both the central lav and the experimental research lab are separate structural units, but each of them has people in charge from educational and research sections thus ensuring science-research-production triangle.

At UNITUS, Davit Pipoyan also familiarized himself with the assessment criteria of the departments. It is extremely important to get to know similar experiences in different countries as the HEIs in Armenia shall also undergo efficiency assessment. At UNITUS, only DIBAF and DAFNE Departments have been marked as "Excellency Department" where the most important role is adhered to the number of publications in the leading scientific journals, as well as the availability of experimental infrastructures.