"ISEC granted me the opportunity to continue my education in France", - Lilit Sargsyan, MA graduate of ISEC
September 29, 2022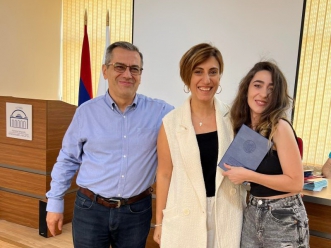 Lilit Sargsyan, a Masters graduate of the Department of Geology of International Scientific-Educational Center of the National Academy of Sciences of the Republic of Armenia, who is currently doing a PhD, got her education at the University of Lille in France within the framework of the Erasmus+ Credit Mobility Project. Below Lilith shared her thoughts about the choice of profession, the opportunities provided by ISEC and the education she received in France.

Coincidence and love for natural sciences moved me from geography to geology.

In 2016, when I was studying for a Master's degree in the Geography Department of the Faculty of Geography and Geology of YSU, I started working at the Institute of Geological Sciences of the National Academy of Sciences of the Republic of Armenia. Having worked for 4 years in the Laboratory of Geoinformatics of the Institute, and all this time communicating with my geologist friends and participating in the scientific seminars at the Institute, my interest towards geology gradually increased. Getting to know the dedicated work of the scientists of the Institute of Geology and being familiar with their approach to work, I decided to get my Master's degree at ISEC, as I wanted to gain in-depth professional knowledge which would be possible only in such an academic environment along with getting practical skills.

Since the Institute of Geology cooperates with the University of Lille in France, my chances of studying abroad increased even more.

Under close support of Lilit Sargsyan, Head of the Department of Geology, and the ISEC NAS RA Foreign Affairs Department I applied for the Erasmus+ International Credit Mobility Project and became one of the lucky ones who came one step closer to her dream of studying at an international university.

The sessions at the University of Lille were very intense with a fairly tight schedule, thus providing the opportunity to put into practice the theoretical knowledge we received. As part of the field practice, we visited the Ardennes Caves in Belgium. Difficulties during studies were also inevitable. Out of scope of geology I chose archeology and subjects related to archeology, as a result of which I had a complex list of subjects in technical English. It was also difficult to adapt to the educational system, but over time I managed to overcome all the challenges.

ISEC granted me the opportunity to continue my education in France.

ISEC has a wide range of cooperation with international universities, which makes it possible to study at a university that corresponds to both your specialty and your preferences. I would strongly recommend the students to take advantage of wide opportunities of ISEC to study abroad.


Public Relations and Career Department of ISEC NAS RA