ISEC delegation at Tuscia University International Training Week
May 23, 2023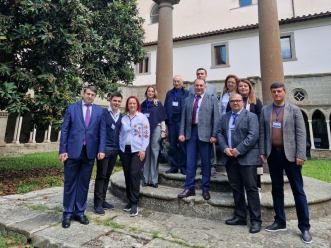 On May 22-26, the delegation of the International Scientific-Educational Center of NAS RA participated in the International Training Week organized at the University of Tuscia in Italy. Members of ISEC administration, as well as representatives of the teaching staff of the Departments of "Jurisprudence", "Economics and Management" and "Environmental Protection and Nature Management" were included in the ISEC delegation.

On the first day of the training week, Arusyak Harutyunyan, Head of ISEC NAS RA Foreign Affairs Department, presented to the participants the activities of ISEC NAS RA, the university's international credit programs, in particular, the statistical data of the international credit programs implemented with Tuscia University within the framework of the Erasmus+ KA107 program, and the progress achieved throughout the programs. Arusyak Harutyunyan also introduced the ways of "exploiting" similar Erasmus+ programs, highlighting in particular how the credit mobility programs help modernize the courses taught at ISEC and internationalize the research carried out at the RA National Academy of Sciences.

Davit Pipoyan, lecturer of the joint department of "Environmental Protection and Nature Management" of ISEC NAS RA and Ecocenter, Dr. of nutrition of Tuscia University in Italy, afterwards presented the "MENVIPRO" capacity development program jointly implemented by ISEC NAS RA and the Ecocenter in past years, within the framework of which a unique inter-university educational and scientific research laboratory was created, where numerous collaborative research projects are implemented jointly with students and external stakeholders, thus contributing to the development of science and education. In particular, all master's and postgraduate students taking part in international credit programs have co-published scientific articles with their Italian co-supervisors.


ISEC NAS RA Public Relations and Career Department