Erasmus+: Sharing International Experience
April 11, 2019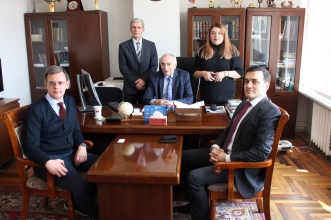 In the frames of Erasmus+ International Credit Mobility project, Pavel Malyzhenkov from the University of Tuscia, Italy, is at ISEC NAS RA. Director of ISEC NAS RA Albert Sargsyan welcomed Pavel Malyzhenkov from the University of Tuscia to Armenia and wished them effective working days.

On his first day of the visit, Pavel Malyzhenkov held a seminar-training for the academic staff of Economics and Management Chair of ISEC NAS RA where he presented the National Research University Higher School of Economics (HSE) in Nizhni Novgorod, particularly HSE Master's degree program on business informatics, its admission requirements, the features of this program, curriculum, its interdisciplinary nature, as well as the demand for the graduates of this program in the current labour market. Then he carried out a training session on IT management in the company covering such topics as engineering of the company, budgetary disproportions that the companies spend on IT, IT-business alignment, the advantages and dimensions of this alignment.

Then he presented the experience of the cooperation between the Higher School of Economics (HSE) and the University of Tuscia and the double degree program both HEIs implement, the challenges of implementing this program and the ways of overcoming them.