Department of QA at ISEC NAS RA
February 28, 2020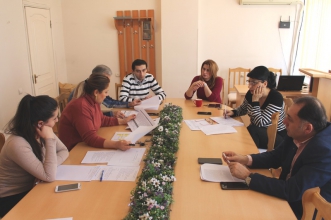 On February 26, 2020 on the initiative of the QA Department of the ISEC NAS RA a meeting of the Standing Committee on Quality Assurance was held. The topic of discussion was the process of improvement plan. The participants reviewed the remaining imperfections and set new deadlines for each criterion provided by the Improvement Plan.

During the meeting the list of necessary documents for the lecturer was reviewed and modified (both in paper and electronic version).

Chairman of the Commission N. Vardanyan also presented and discussed the analysis of the results of the research carried out by the Quality Assurance Department to assess the effectiveness of management and administration.