Awarded Master's Degrees to ISEC Graduates
September 11, 2023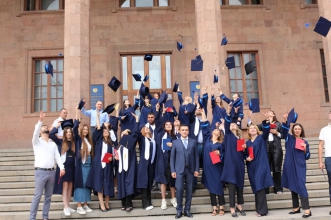 The International Scientific-Educational Center of the National Academy of Sciences of the Republic of Armenia hosted the graduation ceremony and diploma awarding on September 11.

ISEC sent off the graduates of the 2022-2023 academic year of "Business Administration", "Public Administration", "Educational Management" and "General and Armenian Linguistics" master's educational programs.

In addition to congratulating and welcoming the masters, Atom Mkhitaryan, the Dean of ISEC, wished them success in all future initiatives and urged them to always maintain close relations with the university and carry on the mission of ISEC by passing it on from generation to generation.

Karen Sargsyan, the Head of the Department of Management and Economics, encouraged graduates to approach their new stage of life with confidence, since the extensive knowledge they have gained at ISEC will help them forge their new career path.

When congratulating the graduates, Mary Sargsyan, the Head of the Linguistics Department, proudly noted that many of them had already taken advantage of the numerous post-university educational opportunities offered by ISEC and had been accepted to the PhD programs and would continue to develop their professional skills within this framework.

Hayk Petrosyan, the Head of the Department of Pedagogy, wished the graduates much success in their careers so they could lead our nation's development with the best professional solutions and experience.


ISEC NAS RA Public Relations and Career Department