Armenian World on the Internet
August 27, 2016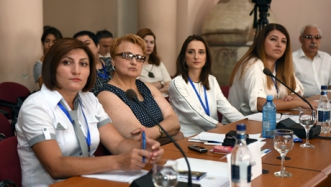 On 25-26 August the Ministry of Diaspora of the Republic of Armenia and Yerevan State University the international conference on "The Armenian World on the Internet".
The conference's mission is the mutual recognition and cooperation for the purpose of organizing researches in the fields of history, language and literature, religion, educational issues, identity, culture, media, library -related structures, internet, social networks and blogosphere.
During three thematic sessions of the conference participants focused on actual problems of the Armenian studies on the network and the prospects of their solutions, distance learning of the Armenian language, compiling the electronic collections of the Armenian heritage and their availability, as well as on the issues of information security on the network.
Head of the Foreign Relations Department of the International Scientific-Educational Center at the National Academy of Sciences of the Republic of Armenia Arusyak Harutyunyan delivered a speech entitled "Distance Learning in Armenian as a Model for Increasing Access to Education", while head of the service group of ASNET-AM Network of the Institute of Informatics and Automation Problems at the National Academy of Sciences of the Republic of Armenia Narine Manukyan delivered a speech entitled "Armenian Scientific and Research Computer Network: Development and Perspectives.