Workshop on Distance Education
June 23, 2017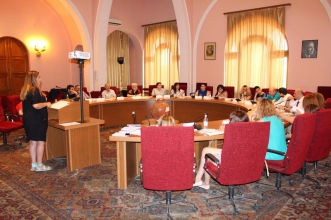 On 22 June the workshop in the frames of 'Online Master's Education with Joint Diploma' was held at Round Hall of Presidium of the National Academy of Sciences of Armenia. The participants of the workshop were the academic staff of 'Business Administration' Online Master's Degree Program from Public Administration Academy of RA and International Scientific-Educational Center of NAS RA, as well as 'Online Master's Education with Joint Diploma' project staff and individual consultants funded by the Competitive Innovation Fund.
First of all, the participants discussed the current problems of the project, then the lecturers raised the questions they had in the construction of distance courses, particularly in terms of grading system and then they listened to the presenters in line with the agenda.
Arusyak Harutyunyan presented the international experience in the field of distance and online education and QA requirements posed to online/distance courses. Then, AUA trainer Tatevik Zargaryan presented open access sources and copyright issues arising in the course of building online/distance courses, while IIAP (Institute of Informatics and Automation Problems of NAS RA) representative Narine Manukyan presented the Academic Scientific Research Computer Network of Armenia and opportunities granted within this network, particularly WebRTC web-conferencing system, digital publications and cloud drives.