Tuscia University Representatives in ISEC NAS RA
October 6, 2016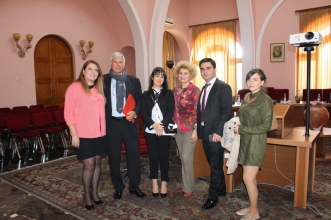 On October 1-5, 2016, the representatives of Tuscia University, Professor Nicolo Merendino, Project Coordinator, Professor at DIBAF, and Angela Fatoretti, Project Responsible Officer, visited ISEC NAS RA within the frames of Erasmus+ Credit Mobility Project, thus launching the project and organizing a number of events.
On October 3 the project's kick-off workshop was held in the Round Hall of NAS RA Presidency with the participation of ISEC NAS RA students, Professors and administrative staff, where the guests presented Tuscia University, the academic programs, education system and the history of the establishment of the University. The graduate student of Tuscia University Davit Pipoyan presented his study experience at the University and the characteristic features of the education in Italy.
On October 4 the Italian guests visited the Research Center for Ecological Noosphere Studies of NAS RA – the Chair of Environmental Protection and Nature Management, where a busy day awaited them. First, Head of the Analytical-Information Center for Food Chain Risks Assessment Davit Pipoyan accompanied them to the specialized laboratories examining the analytical capacities of the laboratories and facilities. Then the guests attended a meeting with the Italian Extraordinary and Plenipotentiary Ambassador in Armenia Giovanni Ricciulli organized by the Director of the Research Center for Ecological Noosphere Studies of NAS RA, Head of the Chair of Environmental Protection and Nature Management of NAS RA, Professor Armen Saghatelyan. During the meeting the history of cooperation with Italy and ongoing projects were presented (by the way, the Eco-Center started its cooperation with Italy in the field of food-safety capacity development in 2011), also visited different departments.
After the meeting Professor of Food Science and Food Safety Nicolo Merendino gave an interview to journalists speaking about the existing problems in the field of food safety in Armenia. Also a lecture was delivered by Professor Merendino on Food-Caused Oxidative Stress and Antioxidants.
On October 5 the working team of the project visited the Erasmus+ National Office, too, where they discussed the current and future cooperation opportunities. Professor Merendino was also the guest of Shant TV pavilion participating in "The Morning in Shant" and "In Search of Quality" TV programs speaking about the food safety and healthy eating diets.
During the visit the Italian guests also visited the History Museum of Armenia, Yerevan Brandy factory, places of interest of Armenia –Garni, Geghard, Sevanavank etc.