Workshop in ISEC
March 17, 2020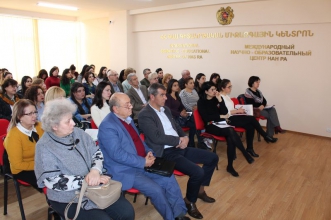 On March 12, 13, at 10: 00-13: 00, the International Scientific-Educational Center of the National Academy of Sciences of the Republic of Armenia held a training on ISEC Chair Monitoring Groups.
The training program covered the following topics: Internal Monitoring Procedure, PEP Monitoring as a Quality Assurance Mechanism, Discussion of Monitoring Steps for Current PEP Monitoring and Periodic Review, Data Collection, Self-Analysis, Monitoring Report.

The training was conducted by Lilit Zakaryan, Head of the Liaison Department of the National Center for Quality Assurance of the RA Ministry of ESSC, an expert on the quality of education.