Summarizing Joint Works Between University of Tuscia and ISEC NAS RA
May 28, 2019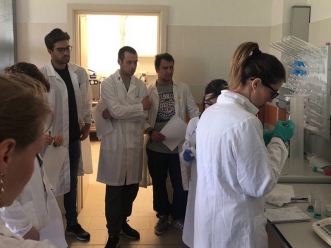 On 24 May 2019, there was a working meeting organized with Professor Nicolo Merendino, Head of Molecular Nutrition Lab at UNITUS aiming to discuss the results of the works performed within the frames of the Erasmus+ ICM, as well as to discuss the edges of new collaboration.

ISEC lecturer Davit Pipoyan, Doctor of Food Science, outlined the importance of the research carried out which resulted in the publication of 4 joint articles in the international journals with high impact factors.

The Food Lab at UNITUS has been supporting for several years the Food Risk Assessment Center located at Ecocenter, NAS RA, in terms of lab analyses necessary to investigate antioxidant properties of Armenian food.

Currently, ISEC Master's students in Environmental Protection and Nature Management, Seda Stepanyan and Stella Stepanyan, as well as Kristina Yarmaloyan, a PhD student at Ecocenter NAS RA, are performing a part of their research at the lab headed by Professor Merendino and an arrangement has been reached to involve Master's students and PhD student in the publication of articles, which will promote training of young specialists having high qualifications.