Online Master's Education - Focus of Monitoring
June 19, 2017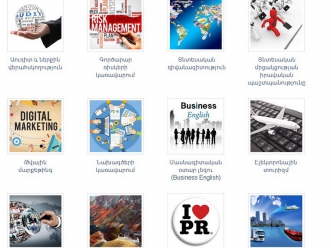 On 14 June the representatives of the Center for Education Projects PIU paid a June working visit to RA Public Administration Academy, where they had a working meeting. The aim of the visit was to monitor the progress of CIF (Competitive Innovation Fund) project.
Project Manager Tereza Khechoyan and Project Coordinator Arusyak Harutyunyan presented the current works implemented in the frames of "Online Master's Program with Joint Diplomas" project.
The launch of the project was given in December 2015 and it aims to introduce and develop distance learning in Armenia and to ensure access to master's education with the use of the ICT technologies. The third stage of this project finishes in June 2017.
The parties recorded that a part of the stage activities have been accomplished, such as translation of the distance learning platform (LMS), participation in Education and Career Expo and the implementation of the publishing package, as a result of which the collection of documents regulating the organization and implementation of distance education has already been published, as well as project booklets. The training of the academic staffs by the local experts and the building of online courses by the academic staffs are still in progress. The documents for the purpose of receiving a license for the implementation of distance education and for the approval of a joint diploma format and DS have been submitted to RA Ministry of Education and Science.
During the meeting the participants discussed a number of issues on further work and process organization. It should be added that the implementation of this project tends to reinforce distance learning grounds in Armenia and development and integration of national system of distance education.