NICARM course on foreign qualifications and recognition of mobility results
December 26, 2020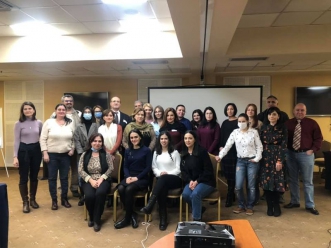 National Information Center For Academic Recognition And Mobility (NICARM) coordinated a regular seminar on the acknowledgment of unfamiliar capabilities on December 23, with the cooperation of Yerjanik Zargaryan, Deputy Director for Education, and Arusyak Harutyunyan, Head of Foreign Affairs.

The course addressed "Acknowledgment of Refugee Qualifications. Governmental issues and Practice " topic, as well as the results of the research "Recognition of foreign qualifications, short-term education / credit mobility implemented by RA universities" were introduced.

The conclusions and suggestions based on the consequences of the research plan to advance the cycle of institutional acknowledgment in the Republic of Armenia, to align it with the Lisbon Recognition Convention.

A survey comprising of 9 questions was created and sent electronically to 47 HEIs of the Republic of Armenia with the end goal of the study. The appropriate responses were gotten from just 19 HEIs. The analysis depends on the appropriate responses.