"The scientific environment of ISEC contributes to the success of young scientists", - Karlen Voskanyan, an ISEC graduate
July 14, 2023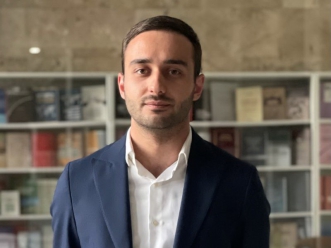 Karlen Voskanyan is an ISEC graduate of the Department of Psychology, who is currently working as a lecturer in the ISEC Department of Psychology. Karlen spoke with us about his educational background, the opportunities offered by ISEC, and his career choice.

My life has been greatly impacted by the education I received at the International Scientific-Educational Center of NAS RA.

At the Center I acquired a wealth of knowledge in the field of psychology, the education I received helped me become more capable of performing scientific work as well as raise my level of general development.

"I have been interested in the field of psychology since school years".

I believe that since psychology is an exact science, it is also possible to apply exact mathematical techniques in this field. I made the decision to combine my specialization in economics and mathematics with psychology in order to conduct more accurate psychological research. I decided to enroll in ISEC because I knew it would offer up-to-date, in-demand knowledge.

Young scientists are more likely to succeed in ISEC's scientific environment.

My time spent studying at the ISEC will always be special to me because the professional skills I picked up there helped me carry out my future scientific research in an effective way.

And finally, since self-education is one of the primary requirements for both personal and professional growth, I would advise the ISEC master's students to make the most of their time, continuously advance their knowledge, and conduct independent research.


ISEC NAS RA Public Relations and Career Department