New Perspectives of Collaboration with University of Tuscia
June 20, 2019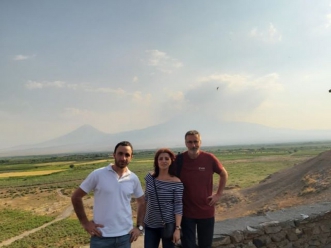 On June 15-21, 2019, the department of "Environmental protection and nature management" of ISEC NAS RA hosted Prof. Raffaele Casa from Tuscia University within the frames of Erasmus+ Credit Mobility program. During the visit:









they discussed the issues of:
the structure of a new "Applied Remote Sensing" for master program of the department
realizing a synergy between research and education on remote sensing of agricultural lands in Armenia.
The visit was organized to the Trinity Canion Vinyards in Vajots Dzor with an aim to be acquainted to the feasibility of cooperation on assessing and mapping ecological state of vineyards using remote sensing technologies (satellite and UAV imagery).