Dean of ISEC was elected a member of the Governing Board of NEPC
October 28, 2022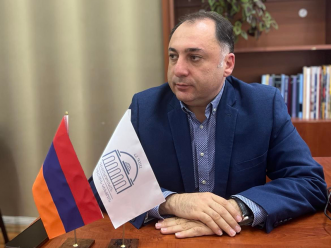 On October 16-18, Atom Mkhitaryan, Dean of the International Scientific-Educational Center of the National Academy of Sciences of the Republic of Armenia, participated in the General Assembly of NEPC (Network of Education Policy Centers) in Croatia and was elected a member of the Governing Board.

Representatives of educational institutions and scientific research institutes from more than 20 countries of Central and Eastern Europe, Caucasus and Central Asia also took part in the meeting as educational policy-makers.

The network input into the improvement of educational policy is reflected in the implementation of various projects, which includes the process of development and implementation of major projects with the participation of several countries, where the International Scientific-Educational Center of NAS RA has its own contribution.

Within the framework of the network's activity there is an approach in which the process of policy-making stops being the prerogative of the state apparatus and institutions. Instead, it becomes the product of collective input from various actors including state institutions, scientists and analysts, citizens, civil society organizations and international organizations, acknowledging different opinions and approaches and ultimately providing policies which are more sustainable, legitimate, rounded and accepted by the society.

It should be noted that the NEPC (Network of Educational Policy Centers) international organization has 27 members from 22 countries, thus the representative of the Republic of Armenia is ISEC NAS RA, which has joined the network since 2020.

The goal of the NEPC is to create a network of leading centers in education policy which as a global player with local, regional experience in education policy, aims to foster an open, democratic, multicultural, and pluralistic society.


Public Relations and Career Department of ISEC NAS RA