A three-week training course for the academic staff of ISEC was launched designed at capacity building of using Moodle E-learning platform
June 24, 2022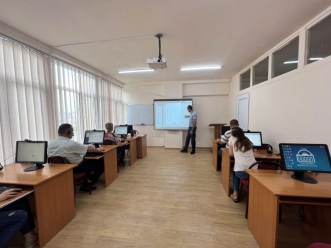 On June 16 а three-week training course was launched for the academic staff of ISEC NAS RA on "Teaching and creating online courses in Moodle" designed at capacity building of using Moodle E-learning platform and creating of online interactive classes.

The training courses are conducted by Armen Yeghoyan, the head of IT department of ISEC NAS RA, and Greta Karapetyan, the chief specialist of IT Department.

A three-week training course will provide participants with all the basic knowledge and skills necessary to use Moodle to create and administer their courses and lessons. They will gain practical knowledge and skills to navigate within the Moodle interface, to manage the roster of students enrolled in a course, to create different kinds of online group activities, track the students' progress and assess it by using Moodle collaborative tools.

The course is credit-bearing, hence, lecturers who successfully complete the course will receive appropriate credits.


Public Relations and Career Department of ISEC NAS RA