The ISEC NAS RA participated in "Education and Career EXPO 2022"
May 2, 2022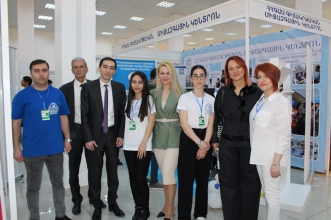 On April 27-29, the 21st international specialized exhibition "Education-Career EXPO-2022" took place in "Yerevan EXPO" exhibition complex, which was attended by educational institutions operating in Armenia and abroad.

During these three days of the exhibition, the International Scientific-Educational Center of the RA National Academy of Sciences presented about 20 Chairs of the institution, where education is carried out through more than 30 professional educational programs. As the prototype of the first research university in Armenia, the ISEC NAS RA provided a brief presentation to its visitors about both the current research-based programs and the upcoming new educational projects, including the new Chair of "Computer Science and Smart Systems" launching in the 2022-2023 academic year in cooperation with Instigate.

During the official opening ceremony of the exhibition, ESCS Minister Vahram Dumanyan welcomed the organizers and participants, emphasizing the importance of the role and significance of such events in the development of the sector.

The Minister toured the exhibition with the guests, visited the pavilions, during which the director of the International Scientific-Educational Center of NAS RA, Armen Sargsyan highlighted the opportunities and achievements of the Center, emphasizing that the establishment of professional chairs in the whole academic system of the institutes leads to development and strengthening of education-science-research efficient linkage. Serving as the base for the ISEC NAS RA, the research opportunities within the chairs administer qualified and competitive staff in accordance with the requirements of the labor market, and contribute to the rejuvenation of human resources potential within the academic system.


The head of the Public Relations and Career Department of the ISEC NAS RA, Lilit Adamyan also underlined the necessity and importance of participation in specialized educational exhibitions, aiming to present the educational programs and their opportunities to a wide range of youth and public public and as well as to establish new partnerships. L ․ Adamyan emphasized that during these three days a number of agreements for future cooperation had already been reached, which would expand greater opportunities for students to get internships and employment in the near future.

It should be also noted that the "Yerevan EXPO" exhibition complex mainly included thematic sections on higher education, vocational education, continuing education, exchange programs, training abroad, staff training, and other related fields.


The Public Relations and Career Department of the ISEC NAS RA