Infrastructure application of the ERLEP educational research laboratory in the framework of project-based education
September 6, 2022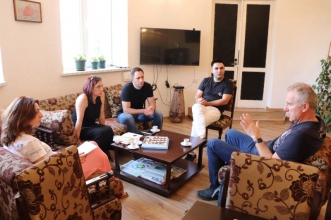 On 5 September, the managing Director of Giraf PM Services GmbH and manager of the "Environmental protection (environmental protection)" educational programs for Armenia and Georgia - MENVIPRO Erasmus+ capacity building program Dr. Andrey Girenko visited CENS for quality control purposes.

During the meeting, the infrastructures of the ERLEP educational research laboratory, their access and application in the framework of project-based education were discussed, as well as the effectiveness of МENVIPRO project dissemination and organizational issues of the final conference were discussed.

Project-based interdisciplinary education is one of the most effective ways for our students to acquire and apply research experience.

These days, 2nd year students of the Department of "Environmental protection and nature management" are conducting sampling work as part of the project to develop an ecological passport for the Yerevan Botanical Garden.

Sample analyses will be carried out in the unique ERLEP educational research laboratory located in CENS, which was created due to Erasmus+ capacity building project "Modernization of Environment Protection Studies Programmes for Armenia and Georgia" (MENVIPRO).


Public Relations and Career Department of ISEC NAS RA