Erasmus Talks
October 18, 2021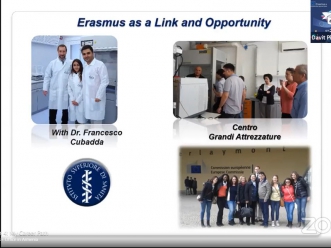 During the webinar #Mundus Talks 4 "My Professional Way" organized by the Erasmus + National Office, Dr. David Pipoyan, Head of the Food Chain Risk Assessment Center in the NAS RA Center for Ecological-Noosphere Studies (CENS) and ISEC NAS RA lecturer, talked about his study experience at the doctoral school of the University of Tuscia (Italy) which took place within the framework of the Erasmus Mundus program.
Dr. Pipoyan presented the highlights of his study experience and the knowledge he has successfully applied so far in his current career. A lot was said and introduced about the Master's Degree and Ph.D. programs of the University of Tuscia. The project ''MENVIPRO'' (Modernization of Environment Protection Studies Programmes for Armenia and Georgia) was also presented separately as a capacity-building program which is also being implemented within the Erasmus+ KA2 project.
During the webinar, students from the University of Tuscia are invited to study in Armenia within the framework of the International Credit Mobility Program.