Distance Education in Armenia: Innovation in Higher Education Area of Armenia
December 18, 2017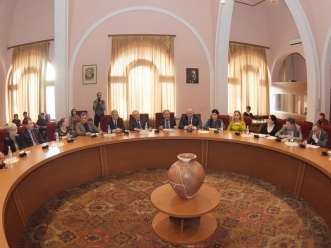 On 15 December the final conference of "Online Master's Program with Joint Diplomas" implemented by International Scientific Educational Center of the National Academy of Sciences of RA and RA Public Administration Academy was held at National Academy of Sciences. The project was launched two years ago and currently the participants are summarizing performed works, achievements; speak about difficulties, which they have overcome to reach the final stage.
The feature of the project is that distance education is being implemented for the first time in the educational system of Armenia at the end of which graduates will be awarded joint diplomas.
According to Albert Sargsyan, Director of International Scientific Educational Center of NAS RA, this conference is unique. "Our society still doesn't perceive distance education unequivocally. Nevertheless, irregardless of being for or against, the future is for distance education," he said.
ISEC's director mentioned that distance education is persistently moving forward not only all over the world, but also in the Post-soviet countries, especially in the Russian Federation and Kazakhstan. "This form of education not recognizing time and space will form problems also in the labour market. We have no right to slow down," Albert Sargsyan slowed down.
"This project was an experiment for us, on the one hand, and innovation, on the other hand: it's joint work which already gives results," PAARA Rector Arsen Lokyan said, "Though we faced numerous difficulties on our way, we sought to tackle all the problems very often demonstrating a creative approach. The implementation of this project is a step forward in the higher education."