The Masters of Law and Political Science were Sent Off by the ISEC
September 12, 2023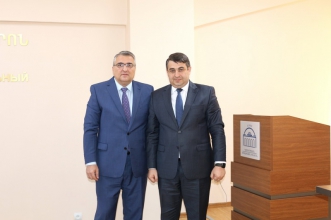 On September 12, the International Scientific-Educational Center of NAS RA sent off the graduates of the Departments of Jurisprudence and History, Political Science and International Relations of the 2022/2023 academic year.

Simon Babayan, the Head of the Department of Jurisprudence, encouraged and motivated the graduates by his congratulatory speech and urged them to constantly improve their knowledge and skills in order to be a respectable citizen of our state and to contribute to the construction of a strong and prosperous nation through their professional endeavors.

In his welcome address, Karen Khachatryan, the Head of ISEC's Department of History, Political Science and International Relations expressed the hope that today's graduates would soon have a viewpoint in this field, which would be crucial to the development of the nation, solve pressing issues, and yield significant results.

After that, S. Babayan and K. Khachatryan presented the graduates with their diplomas and sent their best wishes for successful careers and personal lives.


ISEC NAS RA Public Relations and Career Department