Armenian Lecturers at Tuscia University
June 2, 2017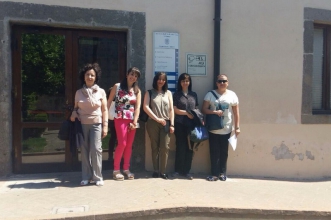 In the frames of Erasmus+ KA107 Credit Mobility Project implemented between ISEC NAS RA and University of Tuscia ISEC Delegation has paid a visit to the University of Tuscia, Italy, since 22 May.
Starting from 25 May Armenian lecturers started delivering lectures at DIBAF (Department of Innovation in Biological Systems, Food and Forestry). The first lecturer was David Pipoyan, who delivered a lecture on the risk assessment of food safety and innovative management.
Another lecturer from Environmental Protection and Nature Management Department of ISEC NAS, Gayane Poghosyan, who teaches "Contemporary Environmental Issues" and "Sustainable Human Development" subjects, had a meeting with Associate Professor Roberto Mancinelli at DAF (Department of Agriculture and Forestry), who teaches "Agricultural Ecology". The aim of this meeting was mutual learning of subjects taught at both HEIs, teaching and assessment methods, contemporary approaches in organic agriculture, environment and human health and other relevant issues.