We remember and condemn
April 23, 2020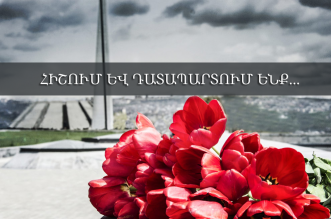 April 24 is the day of remembrance of the victims of the Armenian Genocide.

Thousands of people visit the Tsitsernakaberd Memorial every year to pay tribute to the more than 1.5 million Armenians who fell victim to the genocide in the early 20th century.

This year, due to the situation in the country, the Government of the Republic of Armenia called on to stay at home and not to take part in crowded events.

The staff and students of the International Scientific-Educational Center of the National Academy of Sciences of the Republic of Armenia remember, condemn the 1915 genocide and are going to light a candle on the windows of their houses together as a sign of respect and humility.

Below you can watch the video made by the Master students of ISEC NAS RA.